Sarasota: Pieces of Paradise
The Visit Sarasota website covers all the see-and-do basics, but in our quest to make each of your visits memorable we also publish monthly "Pieces of Paradise" (POP) newsletters to share what's happening and happy-ning in the Sarasota area.

Florida Studio Theatre and
The Roof Bar & Eats
POP June 2021
Sarasota is bursting with theatrical venues, many of which are represented through the Sarasota Arts and Cultural Alliance. Several years ago we received a wonderful introduction to a number of them through a program called Culture Collective. While it would be tough for us to choose a favorite venue, Florida Studio Theatre offers something for everyone.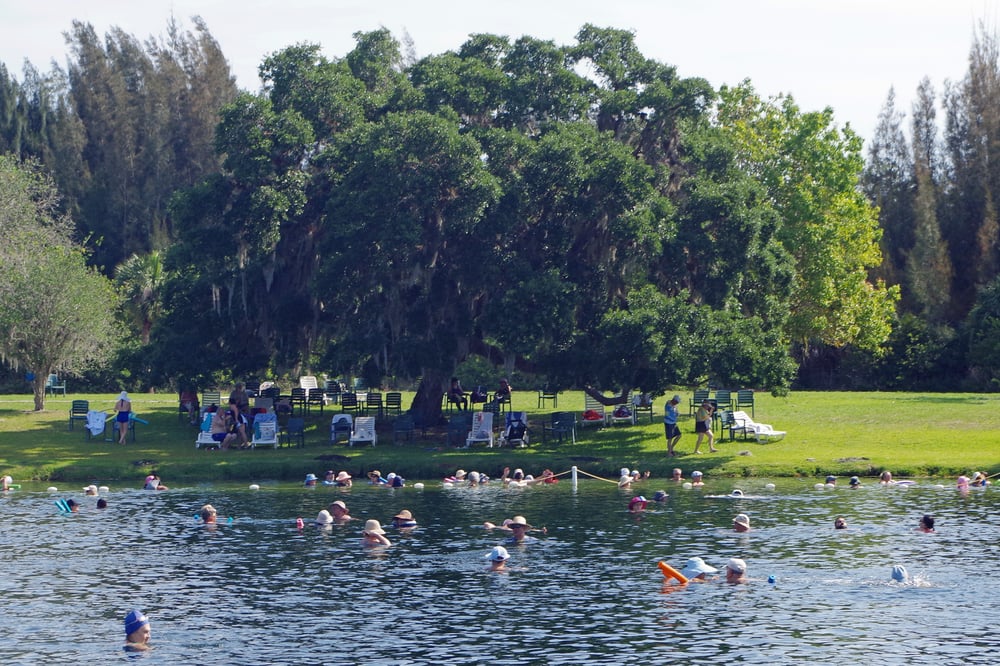 Warm Mineral Springs and Snook Haven
POP May 2021
This photo reminds us of a Georges Seurat painting (Bathing at Asnieres? Bathers in the Water?), and what could be a more idyllic version of paradise than that? True, Warm Mineral Springs may not fulfill visions of warmth and luxury... but it most definitely contributes a unique experience to adventurist repertoires.
Mote Aquarium and Lido Beach
POP April 2021
Sarasota's aquarium didn't make it on Travel Channel's list of Best U.S. Aquariums - and that's just fine by us! (If you're looking for more "wow" factor, the nearby Florida Aquarium in Tampa is on the list.) What we love most about this piece of paradise is that the full name of the facility - Mote Marine Laboratory and Aquarium - honors its core purpose: using science to "help our oceans heal, thrive, and continue to be havens of sustainable life, life-improving science, and life-giving solutions."
Ringling Causeway and Its Parks
POP March 2021
John Ringling is credited with bringing the circus to Sarasota (thank you Circus Arts Conservatory for keeping the local circus alive!) and elite society to the Ca d'Zan. Did you know he also built and donated the first bridge from the mainland to Bird Key?
Mining the Peace River
POP February 2021
If you've ever wondered if February temperatures in Southwest Florida are ideal for wading waist-deep in swift river, the answer is no. No, they are not. Nevertheless, we made a birthday promise to our son months ago that when the water was high enough, we would take our "future paleontologist" to mine for fossils in the Peace River. (Ben says the temperature wasn't terrible...)